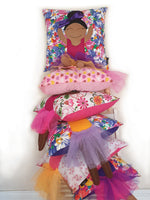 Introducing The Munchkins!!
Inspired by my own 'Munchkin' nieces, these cushions were designed some years ago after my first niece was welcomed into the world; so I am delighted to finally be able to share these cuties with you!  
Each cushion has been created and handcrafted to have their own individual style, no two are exactly the same... Just like the real Munchkins in our lives!
Eye-catching, engaging, bright and bold, these cushions are a bundle of fun!
A 'Munchkin' cushion is a great gift and awesome addition to any kid's room.
The cushion prints are Limited Editions so get them whilst you can!
More designs to follow in the next drop. Watch this space!
The Munchkins kids collection
The Kick It Trainer Collection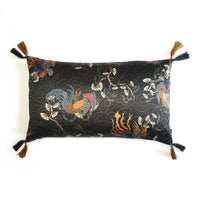 Oriental Print Rectangle Tassel Cushion
Decadence at its best.
Pair this handmade oriental print silky double tassel cushion to make your house your home.
Placed on a singular chair, sofa or bed, it instantly adds sophistication, texture and warmth.  The double contrast tassels at each corner add movement and a touch of fun!
Great alone or paired with other cushions from the Heritage Collection.
Size 30cm x 50cm
Material: Polyester
Testimonials
Received the beautiful cushion today, thank you I love it x

Bespoke Order

Maria
The Munchkin cushion has just arrived, it looks sweet and fun for my granddaughter. Many Thanks

Sue
My mum will love it, I'm so happy! Thank you, I will definitely be placing more orders with you.

Bespoke Order

Dawn
Thank you, it's exactly what I wanted, pleased to have something from your brand in my home x

Miriam
It was lovely to meet you today and the Lion cushion I bought is absolutely perfect! Thank you so much!

Liv
Your range is so gorgeous! My ruffle cushion matches my guest room. Love that everything is handmade x

Amy